Schwarzwald / Black Forest
Discover the Black Forest!
Mehr lesen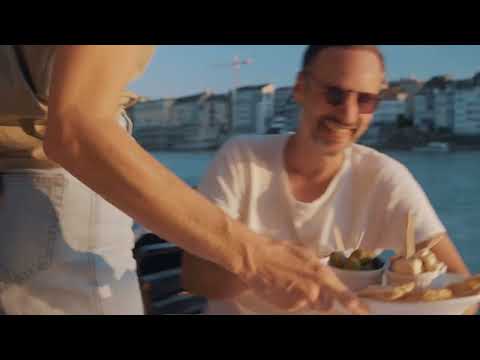 This is Basel
Basel – eine Stadt in der Schweiz voller spannender Kontraste. Eine Stadt, in der historische Bauwerke auf moderne Architektur treffen. Mit weltberühmten Museen und einer jungen, dynamischen Kunstszene. Kosmopolitisches Flair hier, lebendige Traditionen da. Basel müssen Sie selbst erlebt haben.
Mehr lesen
Saba Tourist Board Film
Explore the island of Saba in this destination video!
Mehr lesen
The city of Alicante: Mediterranean and unique
3 minute inspirational video to be able to see what the city of Alicante has to offer: from wonderful beaches to modern museums, world famous gastronomy and plenty of good shopping options. Whether with your family, with kids or on a business trip, you will certainly be enchanted by the charm of the city and the people of Alicante.
Mehr lesen
GORKI Golf Club
GORKI golf club is the first golf club in the north-western region witha championship 18-hole golf course. The course is constructed in compliance with the standards of best course management - R&A and on the right is named Land Links Course. The club operates a Golf Academy with a driving range, chipping and patting greens and three training holes. For its guests and members the Club offers a spacious Club house with a two-storied restaurant and a conference hall, sports grounds. The season lasts from May 1 to November 1. Restaurant at the Club house is open all year. In winter there are ice hockey and skating rinks, pathes for skis and Finnish sledges. We are waiting you at GORKI golf club!
Mehr lesen
St. Petersburg Timelapse
Saint Petersburg with its splendid sights, friendly atmosphere and hospitable people welcomes you!
Mehr lesen
Rugby World Cup 2015 - Team Talk Advert
Rugby World Cup 2015 comes to the South West of England and together we can rock this festival. Let's make it something special. Too big to miss! feat. Charles Dance
Mehr lesen
Frankfurt - Multifaceted metropolis
Immerse yourself in the 1,200-year history of the Main metropolis. Countless sightseeing attractions serve to highlight both the former and the current importance of Frankfurt am Main. Come and feel the pulse of time. Frankfurt stands for innovation and development. It is a place where trends are set, where ideas become reality. Frankfurt architecture ranks among the most modern in all of Europe. Trendy bars, pubs, up-and-coming fashion labels and a booming creative industry mirrors Frankfurts zeitgeist. Frankfurt´s signifiance as a bustling international trade and finance location dates back to the Middle Ages. Today, Frankfurt is also a popular shopping paradise, offering a colourful diversity range of products and services for every taste and every pocketbook. Frankfurt is a pulsating metropolis. Business and finance, trade shows, shopping and a vivacious nightlife combine to make "Mainhattan" one of Germany´s most exciting cities. Frankfurt also has a warm and cosy side. Rest and recuperate at one of the traditional apple wine pubs of Old Sachenhausen, visit one of the 48 beautiful parks and gardens or stroll along the River Main, Frankfurt´s majestic water-way, which meanders gracefully through the heart of the city.
Mehr lesen
Introducing Madeira Islands
Get to know Madeira, the atlantic island, belonging to Portugal and known as The Pearl of the Atlantic.
Mehr lesen
Top 10 Musicals
Experience the magic of West End theatre in London. See the capital's best musicals come to life in this video guide to the most popular shows currently appearing in the West End. See amazing scenes and hear the famous songs from these hugely popular musicals. Book tickets now for the best prices and hottest tickets in London. Find out more about London's top musicals, and book your tickets, at http://www.visitlondon.com/musicals
Mehr lesen
Adventure in Madeira
Have a glimpse at what to do in Madeira - be Active - several activities
Mehr lesen
Mikhailovsky theatre
In 2001, the Mikhailovsky Theatre reclaimed its historic name, and in 2007, it was recognized as St. Petersburg's most prestigious musical theatre. Today, while preserving Russia's centuries-old musical theatre traditions, the Mikhailovsky Theatre is constantly pushing to be at the forefront of contemporary world theatre. The renovated luxury of the entrance hall and auditorium enables theatre lovers to pass their time in comfort.
Mehr lesen
VIENNA / NOW - Meet your host Chris Cummins
Become a part of Vienna's way of life. In each episode of this series we focus on one special aspect of life in Austria's capital - and your host Chris Cummins is right on the spot. He will explore Vienna's vibrant art and design scene, listen to beautiful classical music and get a taste of Vienna's rich cuisine. This and a lot more - in the upcoming episodes. To be sure not to miss anything subscribe to our channel http://www.youtube.com/Vienna Find all info about Vienna at http://www.vienna.info Music: Radical Chique | Im Abendrot Radical Chique | Tag aus, Nacht ein http://www.radicalchique.net/ Credits: Idea & Concept: SLASH http://www.slash.co.at Director & Script: Stefan Schlager Camera: Matthias Smycka Editing, 2nd Unit, Animation: Thomas Scharf Audio: Overdub, Gregor Rašek Produced by SLASH
Mehr lesen
Winter in Skövde
Vintern är sedan länge borta, men här kan du både minnas en bra säsong med många snöiga dagar och se fram emot en ny säsong i Skövde. Sommaren närmar sig och bjuder på ett helt annat Skövde, välkommen hit året om! / The winter is long gone, but here you can remember a good season with a lot of snowy days, and look forward to a new one. The summer is approaching and offers a totally different Skövde, welcome here all year round!
Mehr lesen
Virum Moosepark
Virum Moose Park - the unique moose experience. Come and see the moose and deer in their natural habitat. Come on board the safari trailer and take a guided tour in the beautiful surroundings. You will be able to get very close to the animals and you will have an unforgettable experience. In the "Älglogen" you can enjoy a coffee break and purchase moose souvenirs in the cosy, old fashioned surroundings.
Mehr lesen
Adventure along the Wild Atlantic Way
Ireland's Wild Atlantic Way launched in April 2014, at 1,500 miles it's the world's longest defined coastal touring route. When are you coming to explore?
Mehr lesen
Abolutely Debrecen
The atmosphere in Hungary's second largest city is special due to the rhythm of life of the locals, the inviting calmness of its colorful, spacious squares, the buildings conceived in a variety of architectural styles. When in Debrecen, use your senses instead of the just looking for the signposts: look down ahead of you to see on what kind of planks the citizens walked the streets in days of old. Look up to the sky and marvel at the colorful facades of the merchants' houses built at the beginning of the previous century. Follow your nose to the pleasant smells from the busy Mediterranean squares and intimate cafés, or simply listen to your ears and let the charming music guide your steps.
Mehr lesen
My Tallinn - Old Town
High quality short video introducing Tallinn as a tourist destination for families. Sights from the medieval Tallinn City Wall to Town Hall Square and hidden gems in the oldest part of the city.
Mehr lesen
Feel Zadar
FEEL ZADAR Apart from the five known traditional senses, there are some which are beyond description. One such is the sense of astonishment by the beauty of another being, event or place. Copyright KREATHIA studio & ZADAR TOURIST BOARD 2014
Mehr lesen
Kalejdoskop - Film promocyjny Miasta Poznania
POZnan* Eastern energy, Western style.
Mehr lesen
Afternoon Tea in London
Do you want to find the best afternoon tea in London? Watch this video guide to the classic British tradition and set your mouth watering over cakes, scones and dainty sandwiches. Whether enjoying the traditional splendour of afternoon tea at The Ritz or The Landmark London; high tea at Scoff & Banter; a leisurely cruise with City Cruises; a Charlie and the Chocolate Factory inspired tea at One Aldwych; or a fashionista tea at The Berkeley, there's an afternoon tea London venue to suit you. If you want to get more hands-on, why not make your own afternoon tea at The Cookery School, Little Portland Street. Close to Oxford Circus, this charming cookery school is the perfect place to improve your skills as you learn to bake cakes and make the perfect cucumber sandwich.
Mehr lesen
Ängelholm
Ängelholm in South Sweden
Mehr lesen
My Tallinn - Kalamaja
High quality short video introducing Tallinn as a tourist destination for families. Discovering the lovely bohemian seaside area on Balloon Tallinn, the icebreaker Suur Tõll and schooner Kajsamoor, exploring histroy and science in Seaplane Harbour Museum.
Mehr lesen
Benidorm, your holiday destination #1 // Benidorm, las mejores vacaciones
A drone overflew over Benidorm. Fine golden sand, transparent waters and beaches that are clean and cared for throughout the year are a trademark of the Benidorm seafront. At its north end, two small coves of sand and rock are very suitable for diving and for those who like to swim alone. Un drone sobrevuela Benidorm, teniendo unas imágenes fantásticas a vista de pájaro! Una arena fina y dorada, unas aguas transparentes y unas playas que presentan un aspecto limpio y cuidado todo el año son los signos de identidad de la fachada marítima de Benidorm. En su extremo norte, dos pequeñas calas de arena y roca resultan muy adecuadas para el buceo y para los que gustan de un baño solitario. Tras ellas, comienza el bullicioso paseo marítimo de la popular Playa de Levante, que a sus completos servicios suma el atractivo de mostrar una animada imagen durante todo el año.
Mehr lesen
Welcome to Christmas City Helsinki!
The Christmas season begins in Helsinki when the lights are turned on along the traditional Christmas street Aleksanterinkatu. During the run-up to the holidays, shoppers flock to the Christmas markets throughout the city. The Christmas spirit can also be enjoyed by attending one of the many carol singing and other concerts. http://www.visithelsinki.fi/en/whats-on/events-in-helsinki/christmas-events-bring-light-and-joy Directed and produced by Jussi Hellsten
Mehr lesen
Between Danube and Carpathians-for families with kids
Bratislava for families with kids all year around.
Mehr lesen
Christmas Island - Live the Adventure
Rising majestically from the tropical depths of the vast Indian Ocean, and surrounded by the azure waters of Asia's southern fringe lies a stunning natural wonder - Christmas Island - its name alone is intriguing and stirs interest. Yet this tiny speck of land in the Indian Ocean is a truly fascinating paradise, inviting you to uncover its remarkable surprises of nature in a one-of-a-kind environment.
Mehr lesen
Amersfoort from above
Discover the beauty of Amersfoort from above!
Mehr lesen
Families in Gran Canaria
Families in Gran Canaria
Mehr lesen
Familiy Vacation in Nuremberg
A family holiday in Nuremberg guarantees excitement and fun! Take the whole family with you and discover Nuremberg at its best. It will never be boring!
Mehr lesen
Blekinge - wonderful waters
Blekinge wonderful waters… Our waters is our everything, warm coves, cold water depths, flowing streams, turquoise bays, cities build for the water, on the water.
Mehr lesen
Discover Benidorm
Fine golden sand, transparent waters and beaches that are clean and cared for throughout the year are a trademark of the Benidorm seafront. At its north end, two small coves of sand and rock are very suitable for diving and for those who like to swim alone.
Mehr lesen