Schwarzwald / Black Forest
Discover the Black Forest!
Mehr lesen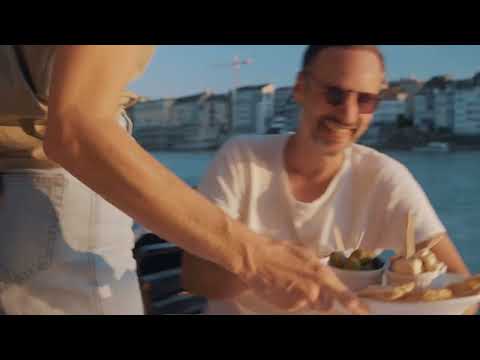 This is Basel
Basel – eine Stadt in der Schweiz voller spannender Kontraste. Eine Stadt, in der historische Bauwerke auf moderne Architektur treffen. Mit weltberühmten Museen und einer jungen, dynamischen Kunstszene. Kosmopolitisches Flair hier, lebendige Traditionen da. Basel müssen Sie selbst erlebt haben.
Mehr lesen
Warsaw Old Town
Warsaw Old Town
Mehr lesen
Chopin`s Concerts
Chopin`s Concerts
Mehr lesen
Chopin`s Warsaw
Chopin`s Warsaw
Mehr lesen
Bruges by tube
Bruges, where heritage meets innovation
Mehr lesen
Volvo Ocean Race 2017-18
Regata internacional "Volvo Ocean Race 2017-18" con salida desde el puerto de Alicante el proximo 23 de octubre. International Race "Volvo Ocean Race 2017-18" starting from the Port of Alicante the next 23rd October. Regata internazionale"Volvo Ocean Race 2017-18" con partenza dal porto di Alicante il prossimo 23 ottobre.
Mehr lesen
Alicante General Video
General tourist video of the city of Alicante, the capital of the Costa Blanca.
Mehr lesen
Christmas in Basel
Basel is well known as the Swiss city with the biggest Christmas tradition. This fame rests not only on its Christmas market but also on its wonderful Christmas illuminations, spectacular special exhibitions in its museums and galleries, a "public wishes book", and numerous concerts and events.
Mehr lesen
Lübeck – our home town
Our beautiful Queen of the Hanseatic League and her most beautiful daughter - Lübeck and Travemünde - presented in a modern way.
Mehr lesen
Basel - Urban Switzerland
You don't need to search for the sights in Basel. As you wander through the city, you will find them with every step you take. Whether you are in the picturesque Old Town or in the midst of world class architecture – the city offers something for every taste. www.basel.com #LoveBasel
Mehr lesen
It's all happening in Rotterdam!
Rotterdam is a young, dynamic global city, continuously renewing itself at a rapid rate. Sparkling skyscrapers, an impressive port, trendy restaurants and food markets, renowned museums and awesome festivals are the direct result of the can-do mentality of the Rotterdammers. Add to that the many extraordinary attractions and city tours – by bike, bus, boat or on foot – and you understand why Rotterdam was voted Lonely Planet's Best in Travel 2016. Rotterdam embraces experimentation: almost anything is possible. Here, you are constantly surprised by new initiatives: from a rooftop city farm to a music festival in the harbour, from an exclusive rooftop bar to a brewery in an old warehouse. If you love architecture then a visit to Rotterdam - with its patchwork of architectural styles - is a must. Icons of the past clash cheerfully with the hypermodern landmarks that have been built in recent decennia: the Erasmusbrug, Rotterdam Central Station, De Rotterdam, the Timmerhuis and of course the Markthal. In short: It's all happening in Rotterdam! Come to the city and experience it for yourself.
Mehr lesen
Basler Fasnacht - Basel Carnival
Carnival in Basel. A city goes wild. Experience the "three best days" in Basel. During Basel's Carnival (Fasnacht), the city goes wild.
Mehr lesen
The city of Alicante: Mediterranean and unique
3 minute inspirational video to be able to see what the city of Alicante has to offer: from wonderful beaches to modern museums, world famous gastronomy and plenty of good shopping options. Whether with your family, with kids or on a business trip, you will certainly be enchanted by the charm of the city and the people of Alicante.
Mehr lesen
Hogueras (Bonfires) in Alicante. Main Fiestas in the city
Short video of the main fiestas in Alicante, called Hogueras de San Juan (Bonfires of Saint John). They take place between the 20th and 24th of June and they atract many visitors from all around the world!
Mehr lesen
Linkoping - where ideas become reality
Linköping is a vibrant, life-affirming city with a proud history and an exciting future. Welcome to Linköping - where ideas become reality.
Mehr lesen
#ViennaFunFacts 2 - and what do YOU know about Vienna?
In the second video of the #ViennaFunFacts campaign we follow Pippilotta on her special journey of discovery through Vienna again - this time along the Ringstrasse boulevard. She wants to pique our curiosity for seemingly useless knowledge, for fun facts and Viennese myths. Our winner fact is also included: Did you know that until 1956, visitors of the Stadtpark had to pay a fee to use the chairs provided? Find more info at http://funfacts.vienna.info
Mehr lesen
Discover Basel
It is not easy to describe Basel in a few words. Descriptions for example such as "cultural city of Switzerland" or "university town" are merely an attempt to give some sort of impression of the wealth of culture, history, relaxation and enjoyment to be found in the city. www.basel.com
Mehr lesen
Alicante, beautiful, mediterranean, unique...
Discover Alicante with all your senses: Its beaches, monuments and fantastic museums all form part of this city's great appeal bathed by the Mediterranean Sea and renowned for being a dynamic city, with a warm climate, all so wonderfully Mediterranean.
Mehr lesen
VISITBRUSSELS
All information about Brussels
Mehr lesen
Höga Kusten smaker
The High Coast of Sweden is not all about nature. Whiskey, gin, flat bread, cheese, chocolate and fermented herring are some of the many local delicacies worth trying.
Mehr lesen
Stockton - Stocked Full of Flavor
Discover why Stockton, California is "Stocked Full of Flavor"
Mehr lesen
Abolutely Debrecen
The atmosphere in Hungary's second largest city is special due to the rhythm of life of the locals, the inviting calmness of its colorful, spacious squares, the buildings conceived in a variety of architectural styles. When in Debrecen, use your senses instead of the just looking for the signposts: look down ahead of you to see on what kind of planks the citizens walked the streets in days of old. Look up to the sky and marvel at the colorful facades of the merchants' houses built at the beginning of the previous century. Follow your nose to the pleasant smells from the busy Mediterranean squares and intimate cafés, or simply listen to your ears and let the charming music guide your steps.
Mehr lesen
Families in Gran Canaria
Families in Gran Canaria
Mehr lesen
Munich loves You
Munich loves you - München mag dich
Mehr lesen
The London Story - Notting Hill
Let Henrietta share her London Story as she explians the vibrant mix of film, fashion, style and music on offer in Notting Hill.
Mehr lesen
Guest of Honour
Adaeze won a competition to be London's Official Guest of Honour and spent two unforgettable weeks in London experiencing the very best the capital has to offer. Watch highlights from Adaeze's trip of a lifetime, from flying first class from her hometown in California; to raising Tower Bridge, attending a Royal Premiere, seeing London from a helicopter, and watching her name appear in the Piccadilly Circus lights! Watch brand new footage from Adaeze's trip. Look out for some very special guest appearances from Professor Stephen Hawking, Mayor of London Boris Johnson, Downton Abbey star Jim Carter, Michelin star chef Jason Atherton, tennis ace Tim Henman, and British ballerina, Darcey Bussell.
Mehr lesen
Plovdiv - European Capital of Culture 2019
The proclamation of Plovdiv European Capital of Culture 2019 has launched a number of campaigns and activities giving the city entirely new appearance. This is the first Bulgarian city chosen to be European cultural center for a whole year!
Mehr lesen
Skövdefilmen/A film about Skövde
Välkommen till Skövde och upplev pulsen, de vackra omgivningarna och den spännande kulturen./Welcome to Skövde and experience the pulse, the beautiful surroundings and the thrilling culture.
Mehr lesen
Valencia infinitely Mediterranean
When you come to Valencia you bring a list of sights you have to see: The City of Arts and Sciences, the historical Lonja, the beach... But what do you take home? You leave having ticked all the boxes and more: unique instants in time, unforgettable experiences... Your infinitely Mediterranean moments.
Mehr lesen
Welcome to Uppsala
This film captures the history, knowledge, culture and spirit of Uppsala. We welcome you and hope to see you here soon. In the meantime, enjoy the movie.
Mehr lesen